How is a custom home financed in North Carolina?
When you build a new custom home in North Carolina, it's typical to need a construction to perm loan, as opposed to a mortgage loan, which is more common when purchasing an existing home.
Construction loans are short term loans, most often with interest-only payments that are intended to last the length of your new home construction – up to one year.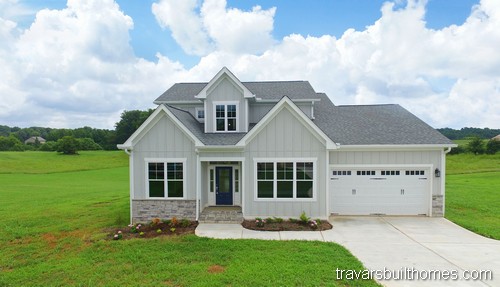 Your lot purchase and the construction of your home are typically bundled into one transaction with a construction loan, so you do not need to buy the lot before you build. Travars Built Homes can be built on your lot, in custom home neighborhoods or countryside locations within about an hour of Chapel Hill.
Interest payments in a construction loan are only due in segments, with the construction loan accessed gradually by the builder through draws as specific portions of your home are completed.
The North Carolina county or city inspector will approve each portion of the home as it is completed, and your construction lender will review the progress before dispersing the draw to the builder.
What About when the Home is Complete?
What happens with your construction loan upon completion of your home depends on the program you have entered with your lender. It's most common to subsequently take on a mortgage for permanent financing, with terms up to thirty years. However, some construction loans have a one time close, which has different terms than a two time close. Your lender will advise you of the differences.
Where can I learn more about North Carolina Construction Financing?
Daniel McCoy of the

McCoy Team

at MVB Mortgage #485895 offers a variety of programs to choose from for your new home construction loan. 
336 255-0445
This Portfolio Lender has programs with:
As low as 95% LTV, conventional up to $453,000 on primary residence
As low as 90% LTV, conventional up to $453,100 on second home
100% financing for eligible VA borrowers
Jumbo financing to $2mil
Cross-collateralization and Bridge options
Interest only payments during the construction period
660 Minimum Credit Score
All loans subject to credit approval
North Carolina new home loan products and interest rates are subject to change at any time due to changing market conditions. Actual rates available may be based on a number of factors including your credit rating, size of down payment and amount of documentation provided. This information is provided as an overview of the loan process and not a guarantee of lending. Contact your tax advisor about the deductibility of interest. Contact MVB Mortgage for more information about mortgage products and eligibility.
MVB Mortgage NMLS#181319