Building indoor/outdoor living into your NC new home can make it feel more open and spacious – with easy flow through to extra space where you can stretch out and enjoy natural light, fresh air, scenery and activities.
Get ideas from these 14 photos of indoor/outdoor porches, decks, windows and doors. See

what comes standard

(or can be easily customized) when you build a new custom home with Travars Built Homes.
Sliding glass doors
Double sliding glass doors are one of the most exciting new trends in NC custom homes. Framed by matching windows on either side, they promote natural light as well as access to a covered porch, screen porch, deck or patio through multiple entrances that extend gathering areas into everything your outdoor living area offers.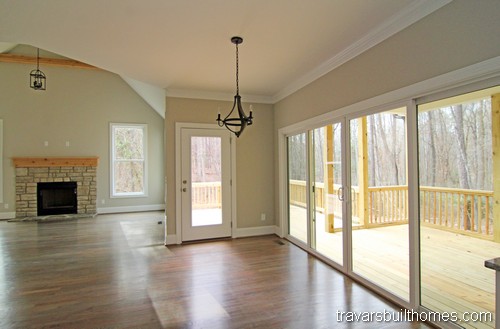 Open space
Note how much more open space is felt in this NC custom home by adding outdoor living space separated by a wall of glass. The more you can view, the more your indoor open space can create a connection with back yard nature. Ask NC custom home builder Travars Built Homes about ways to add more – and bigger – windows, all over your new home, with

modifications in its design phase

.
Wall of windows
Indoor/outdoor living space that is connected through a glass door as well as a wall of windows adds extra dimension. This

Modern Farmhouse

screen porch extends living space with massive windows across the entire area. Note the dark framed windows – a huge trend for NC new homes.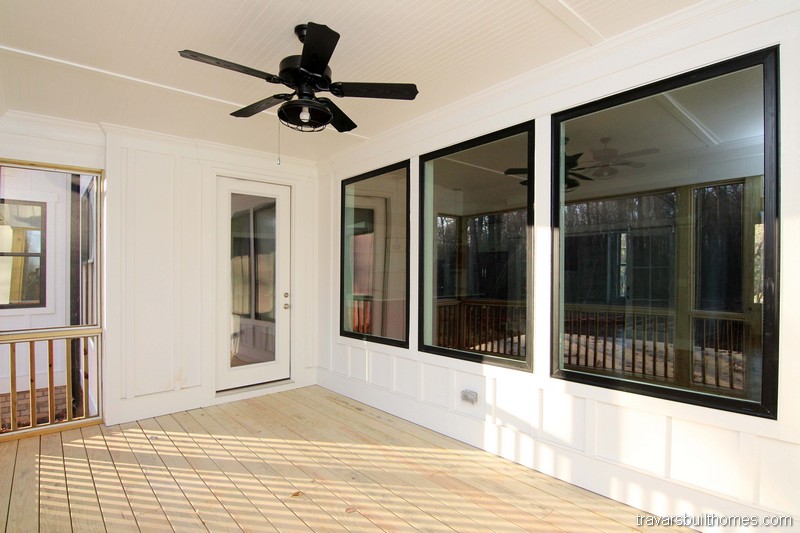 Deck extension
Extending outdoor living area with a deck that stretches beyond a screen porch offers even more opportunities to leverage all the activities conducive to including nature in your new home.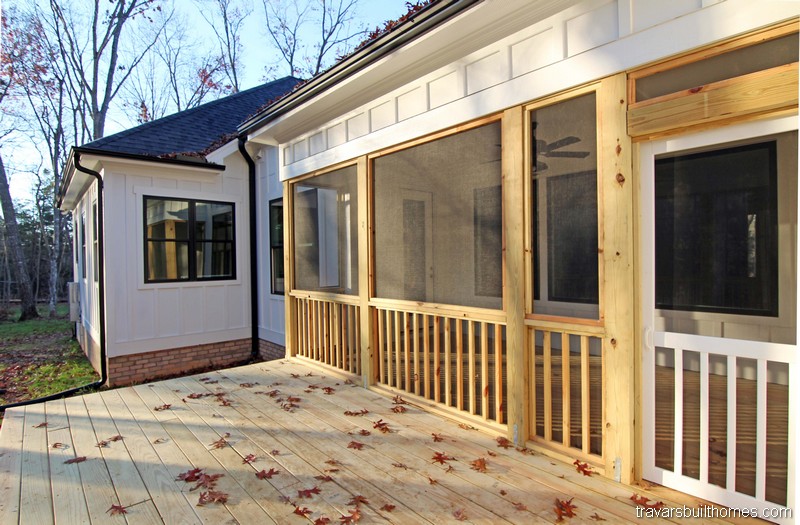 Big screen porch with detail work
Think through the size of your screen porch

when you're looking at blueprints with the builder

. Some floor plans already dedicate space that's integral to the home. Others can have a porch added on. Note the detail work that makes this indoor/outdoor living especially inviting.
Patios
Consider stepping down from your screen porch to a patio below suitable for a hot tub spa, barbeque, or other fun outdoor gathering space. Check with the general contractor about impervious space and other regulations, to see what's possible where you're building.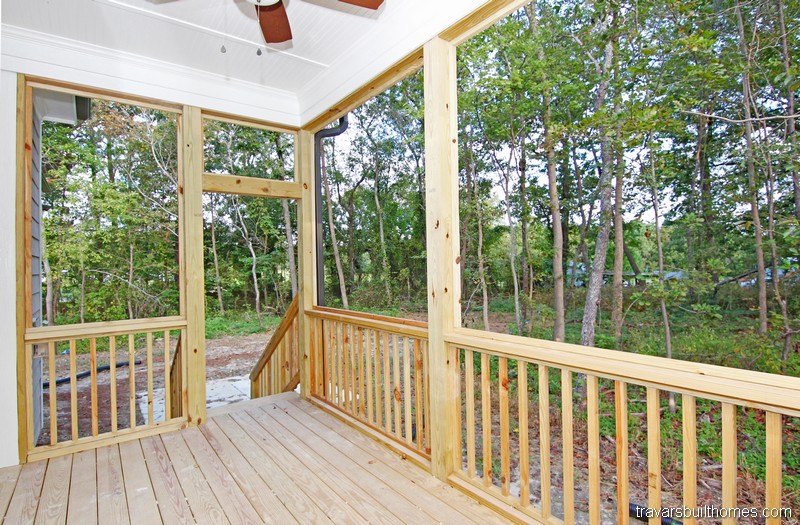 Railings
Whether rails are required due to height or you simply prefer to have deck space walled in, there are various approaches you can take with a custom home. Wood railings and wrought iron railings are the most popular treatments in NC. See how creative you can be, when you create a special look with Travars Built Homes.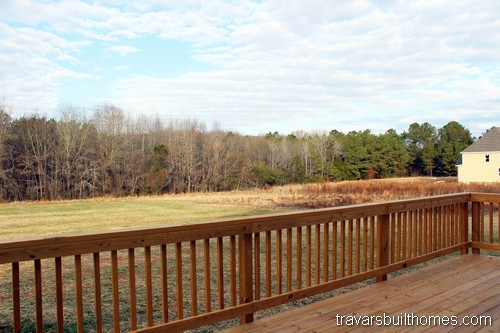 Maximize (outdoor) open space
Open space isn't just for the interior of your home. When the world awaits outside, relax on a wide open deck where you can sit and ponder. This deck was designed to encompass two entrances into the home (the breakfast room and the laundry/mud room). Want more? The possibilities are nearly endless, when you build a custom home in NC.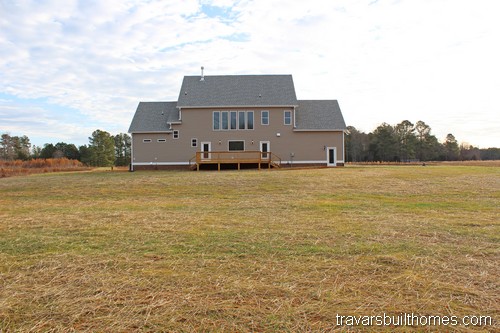 Fans and lighting
Screen porch ceiling fans

come standard in Travars Built Homes

, to add further enjoyment to outdoor living space. Lighting extends enjoyment of gathering areas like this no matter what time of day you feel like relaxing or getting together on your screen porch.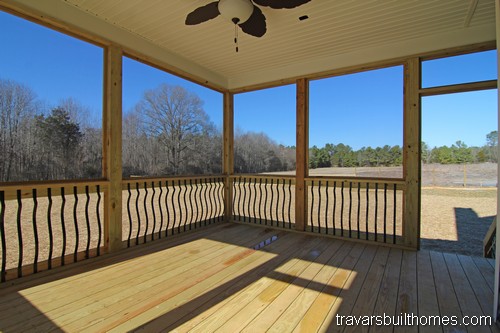 Personality
See the personality you can build in, through the design decisions you make – and

the craftsmanship of a Travars Built Home

. See the difference in choice with this wrought iron railing as compared to wood railings. The deck that stretches from the screen porch you see here was designed for maximum space. Note the detailed trim and ceiling treatments. Everything adds up, as you create your home the way you want it.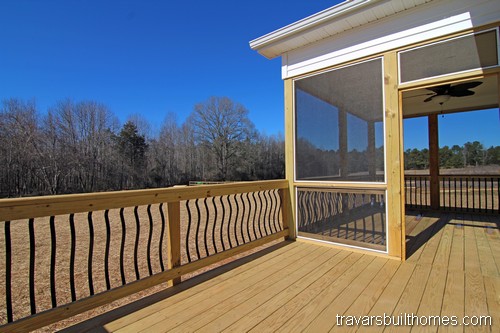 French doors
The classic tradition of French doors can add an inviting touch to your outdoor living area. Tag on additional windows, for even more access to everything you want to see and do from the inside, out.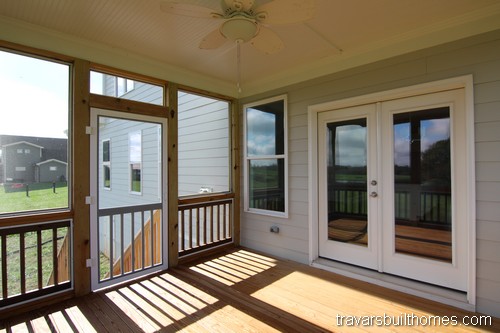 Open or enclosed
Travars Built Homes enclose your screen porch in comfort so your outdoor living enjoyment can be at its fullest. Screen walls. Screen door. Screen under the decking. Beadboard ceiling. Fan. Check out the details and relax. You're going to love this.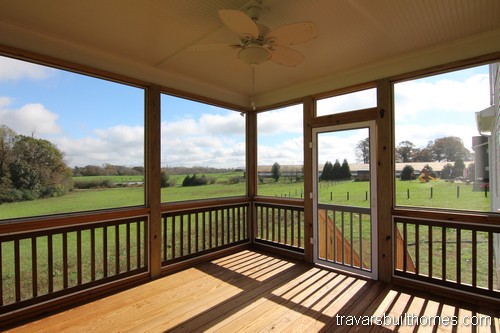 Extending the view
Got views on all sides of your new home?

Ask us about floor plans

that give you a glimpse around the corner from your screen porch, like this NC custom home. Soak in all the reasons you chose your homesite, as you maximize your indoor/outdoor living with a view.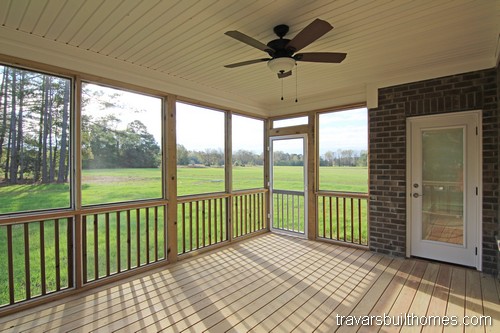 All brick
Wrap your indoor/outdoor living space with the solid feeling of strength, on your all brick home. This screen porch is an integral part of the home, with a doorway tucked into the brick corner that adds dimension.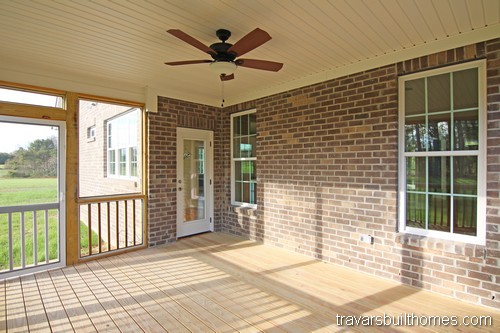 Get started: