What kind of flooring will your new home come with, when you build an NC custom home?
It can depend on what your builder offers, and

the floor plan that you choose

. Here's what to expect in a Travars Built Home.
Kitchens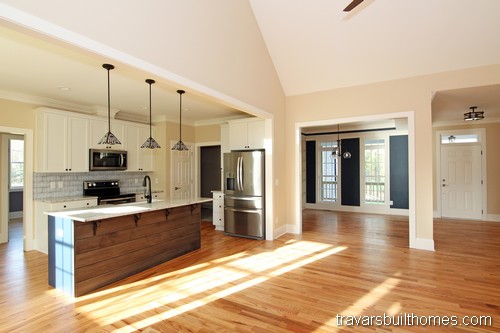 Most kitchens in North Carolina new homes have hardwood floors. With Travars Built Homes,

site finished, real oak hardwood is our standard

. Ask us what some homeowners want for flooring when they have dogs. We'll also tell you why tile isn't as common in NC kitchens as in some parts of the country.
Living rooms / great rooms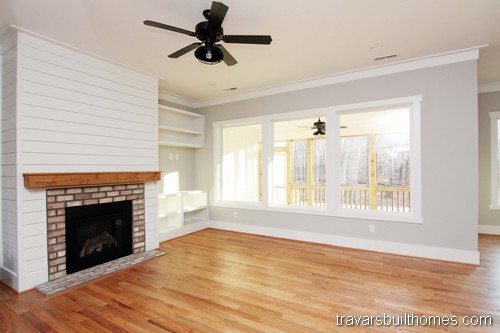 Hardwood in the living room gives a clean, fresh look to gathering areas, with easy cleanup. Decide which stain color you'd like to go with on site, when you go there during the build to see what looks best with the cabinetry, in the sunlight.
Breakfast rooms
The hardwoods keep on flowing throughout all the main living areas in your Travars Built Home, with sweeping open space that's beautiful from one room to the next, like this breakfast room.
Laundry rooms
Laundry rooms have tile floors in Travars Built Homes. Have fun choosing the personality you want in spaces like this, that get a lot of use! Ask us how to make your laundry room even better, with folding tables, cubbies, shelves, and more space.
Mud rooms
Mud rooms have tile floors too. They're designed for easy cleanup of everything that tracks into the home from outdoors. It's also great for furry friends. Ask how to tuck a dog house, pet shower, or other accommodation into your custom home, like the one you see in this mud room.
Bathrooms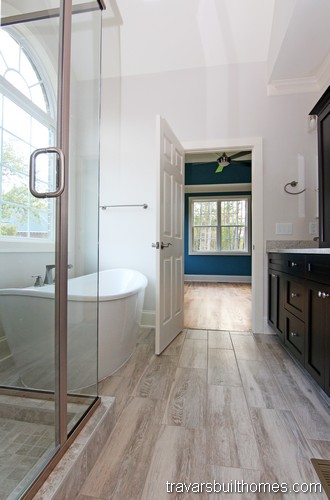 Every full bathroom in a Travars Built Home comes with a tile floor, too. There's a big trend right now for tile that looks like wood, which can give it a rustic, contemporary look that can be really beautiful, like this floor.
Bedrooms
Bedrooms typically come with carpet, which Travars Built Homes makes more comfortable and long lasting with 8 pound pad beneath and a variety of choices. We can install hardwood instead – it's one of the many things you can decide what to do with, when you build a custom home the way you want it.
Library / home offices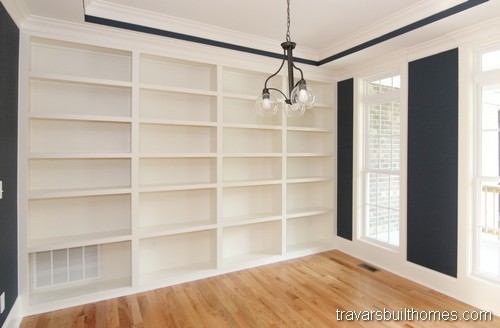 Most offices and libraries in Travars Built Homes have beautiful oak hardwood flooring like this home. It can depend on the location of these rooms – all main living areas on the first floor typically have hardwood as a standard.

Ask us about other flooring you'd like in your home

– cork, bamboo, concrete, laminate – we can create whatever effect you would like.
Get started: