Barn doors are big in North Carolina new homes. See the best places to add a barn door – with the flexibility to fit every architectural style, from modern farmhouse to contemporary.
Love a floor plan, and want to add a barn door? Ask the team at Travars Built Homes what it takes to build your new home with a barn door for your kitchen, office, owner's suite, sitting room, keeping room, pantry, bathroom, laundry, or closet during

our custom home build process

.
Stained wood sliding barn door
This barn door has a rural feel to it, with the 2×4 "X" across the door taking it one step further to a branded look.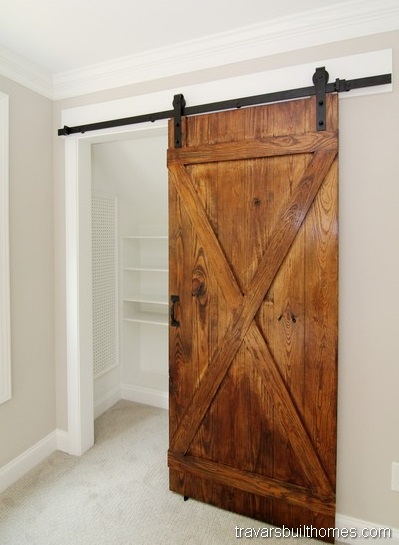 Antique white wood barn doors
Don't take the term "barn door" literally. It's a free ranging door style that can take on a different feel depending on the materials it's crafted with – like the glass barn doors you see here, framed in white – with contemporary appeal.
Opaque glass barn doors
Barn doors take twice the amount of wall space as swinging doors. However, they can add functionality to an area where a swinging door is not feasible. That's why they have become so popular in bathrooms, like this:
Double sliding barn doors
Barn doors are typically attached to the wall on metal girders like this, which are purposely big and dramatic to call further attention to them as a focal point: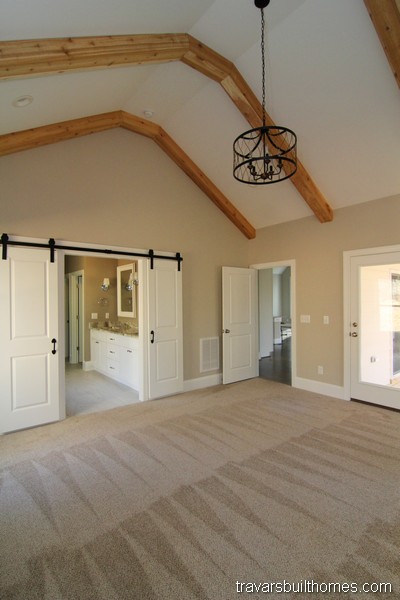 Double barn doors are a great fit for larger spaces. They can be held open most of the time, like a frame around an entry place that can be closed off when desired.
Glass panel sliding barn doors
Sliding barn doors can lend importance to libraries like this, off the great room. The glass panels reflect the wall of windows in the room. White trim denotes elegance. Subtle metal rods and hinges meld into the home décor with classic appeal. Nothing rural about these barn doors!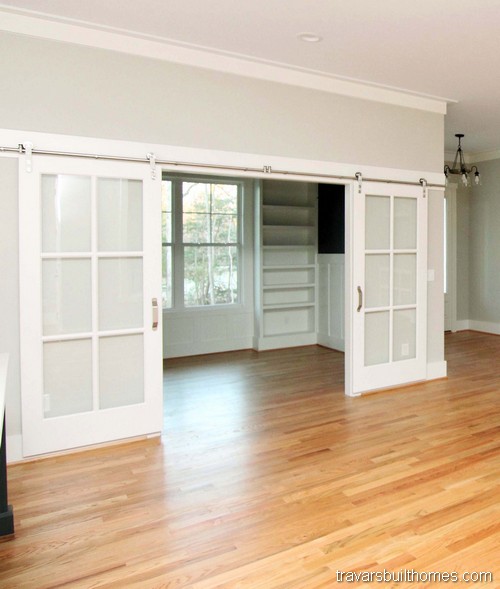 French door style barn doors
Barn doors serve a decorative purpose in rooms like this. On the outside, they slide across the doorway. On the inside, they look like traditional French doors with an open view from an office, dining room, keeping room, sitting room or any other room that can be set apart by sliding doors.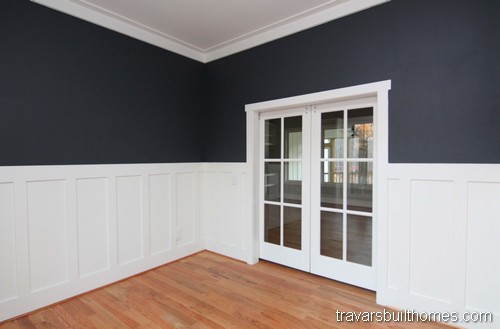 Brushed nickel hardware for barn doors
Barn doors are often preferable to pocket doors in NC new homes –

talk with the builder team at Travars Built Homes about why

. Here, they add charm as well as functionality to the mud room.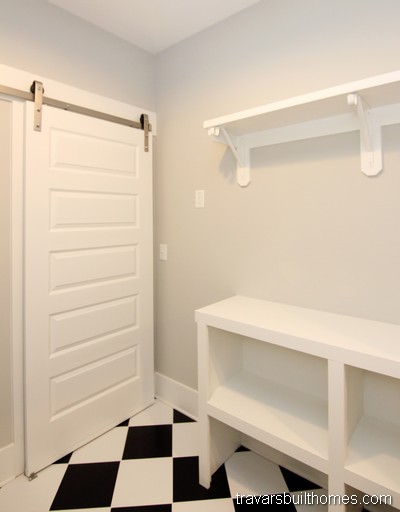 Get started: