Looking for a universal design / aging in place laundry room checklist for your Chatham County new construction home? Find everything you'll need in a new, aging in place home, from doorway widths to accessible features and layout recommendations.
Appliance configuration
When you choose your appliances, it's important that they be front load, for easier loading. We strongly suggest getting a matching pedestal from the appliance manufacturer. Or

ask your custom home builder to create a 12-15" platform

for the equipment to sit on. Stackable appliances are not universal, as neither appliance will be at the ultimate height to avoid bending and stretching.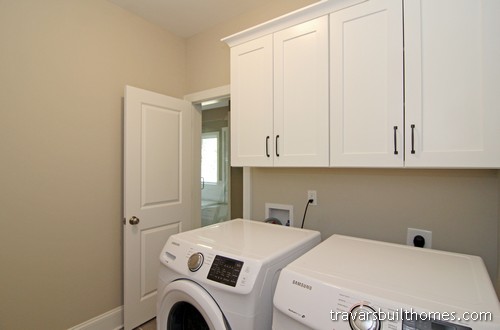 Size
Your builder will look for a way to have a

36" wide doorways

and

5 foot diameter

of open space in front of the washer and dryer. If the laundry is located along the hallway, it will need to be at least

4′ wide

.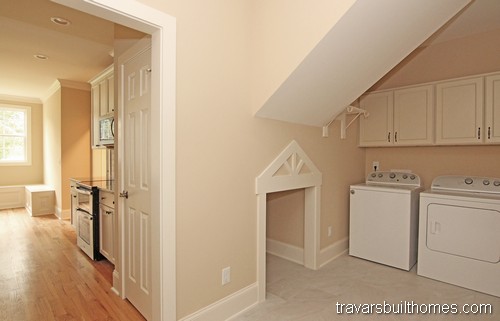 Location
Keep your laundry room on the main floor for accessibility, unless your home will have an elevator.
Storage
Cabinetry over the top of the washer and dryer may not be as useful to you as

cubbies or shelves at an accessible height

. Check with your builder about reconfiguring the laundry room if necessary, to allow for the kind of storage you need.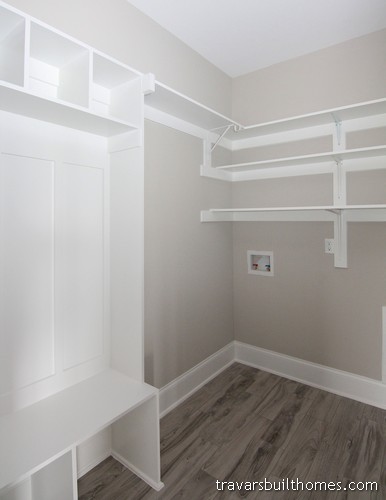 Convenience
Some plans allow for a washer and dryer in the owner's suite closet. Others can be built with a door from the owner's suite or closet directly into the laundry room, which also has another entrance. Tell your builder what your needs are – some plans can be modified to relocate the laundry room or add extra doors.
Task Management
Consider where you will be doing the laundry, as well as where it will be folded and put away. Do you need a table in the laundry room? Countertops can be built at varying heights. Hanging rod? Pull down ironing board? Sitting area?

Your builder will take a look at the plans, to make sure there's knee room and a 36" wide circumference, for full accessibility.
All of these features can be designed and built in for accessibility by a custom home builder.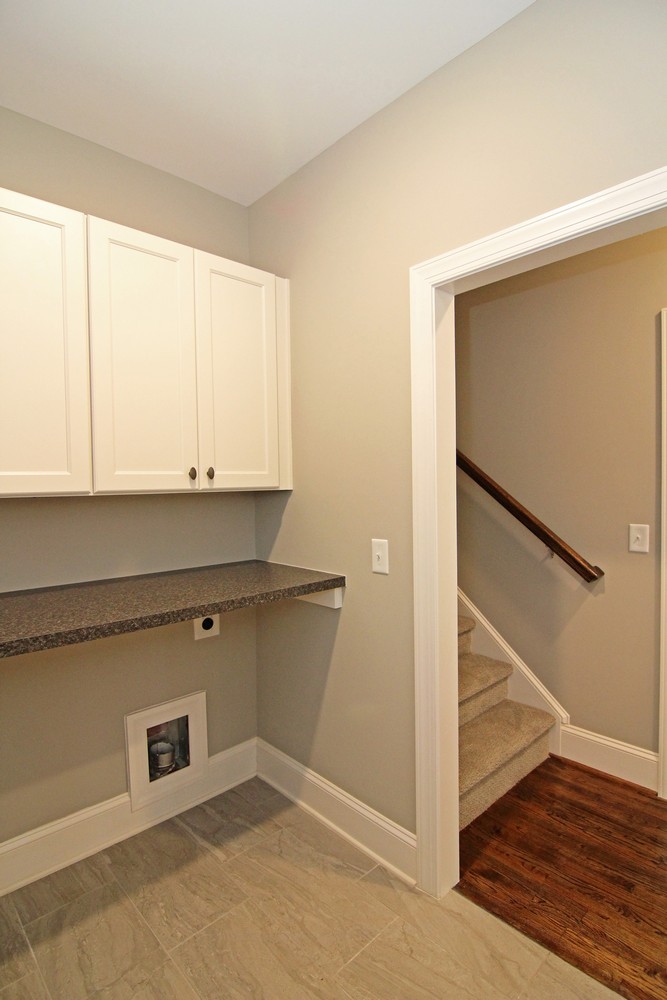 Lighting
A universal, aging in place feature that's important in your laundry room and throughout your home is appropriate lighting. In addition to LED lighting, ask your builder for extra lights if there are areas where you need additional illumination. Consider motion detector lighting for convenience when your arms are full so lights can operate automatically when you come and go.

If there are work stations, think about under cabinet lighting, flexible track lighting, or even natural light from windows or doors.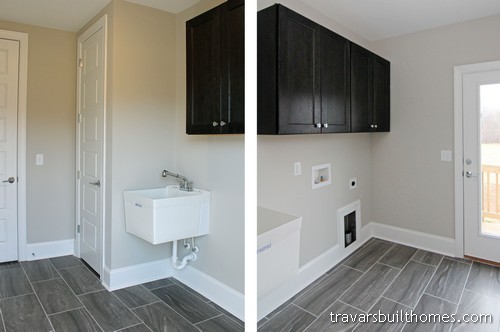 Flooring
One way to help eyesight in an aging in place design is to change flooring color in the laundry room to differentiate from surrounding areas

. There are a lot of great tile choices in a huge variety of styles and colors when you work with a premium custom home builder. Consider cork, too.
Talk with an experienced NC builder
Make sure to talk with a custom home builder experienced with universal design who is flexible enough to meet your goals in design/building your home with the features and convenience you need.

Contact Travars Built Homes to get started

.