Get owner's suite bathroom ideas with practical solutions and beautiful options to make the best use of space in your custom home floor plan.
These 11 owner's suite bath layouts for your NC new home can change everything, as you customize your floor plan and build on your lot with Travars Built Homes.
Bathroom Layout #1: Single long vanity
If your floor plan has the space for a single long vanity, a 7′ granite countertop can provide enough room for two sinks and space to spread out. A single piece of granite can be as long as 10′ without a seam.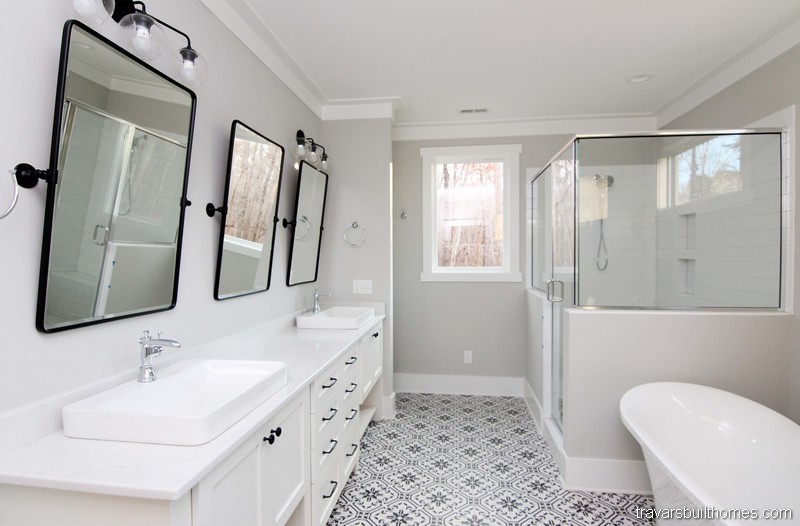 Bathroom Layout #2: Closet through the bath
A big walk in closet with lots of shelving and rods – and easy access to the bathroom – makes plans with a closet through the bath a popular choice.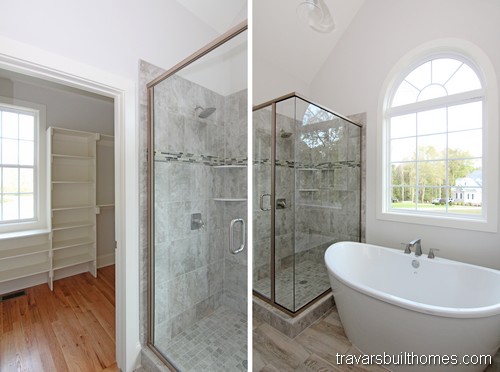 Bathroom Layout #3: Tiny touches with designer appeal
When you build on your lot with NC custom home builder Travars Built Homes, you can personalize your owner's suite bathroom with lights, mirrors, cabinetry, tile and other customization that adds a fun designer touch – without a big price tag.
Bathroom Layout #4: Barn doors
The owner's suite bathroom is a great place for barn doors in a variety of styles and materials. Choices depend on the door opening and available wall space for barn doors to slide. What a great way to maximize maneuverability, without a swinging door.
Bathroom Layout #5: Frameless shower
Want a way to make your owner's suite bathroom layout look even more open? Consider a frameless shower, like this. The marble countertop here adds artistry, too.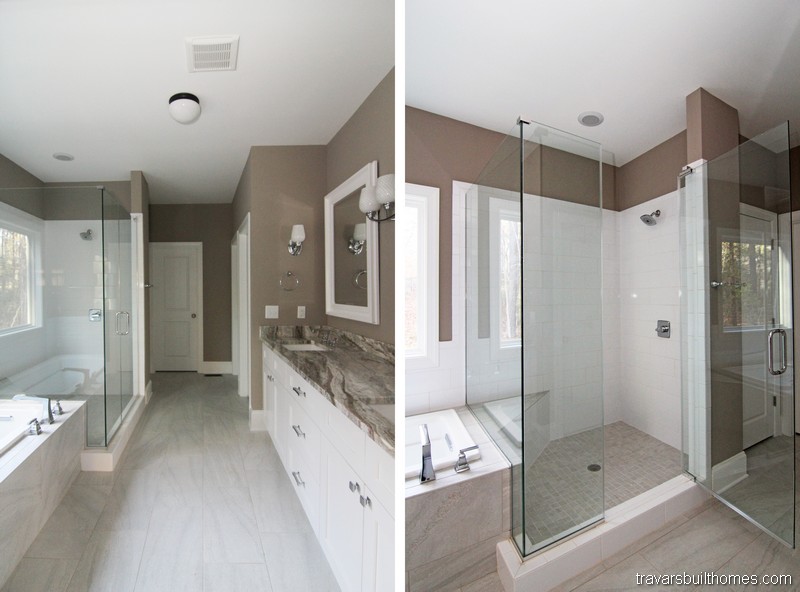 Bathroom Layout #6: Large shower and deep tub
Looking for the luxury of a deep tub and large shower? Travars Built Homes offers a variety of custom home floor plans – and modifications – that provide extra space in the owner's suite bathroom – to create leisurely master suite retreats that allow you to linger and relax.
Bathroom Layout #7: Big shower instead of a tub
Don't need a soaking tub? Focus on floor plans with a big shower – or ask for ways to modify the owner's suite bathroom with a massive shower instead of a combined or separate shower and tub in NC new homes.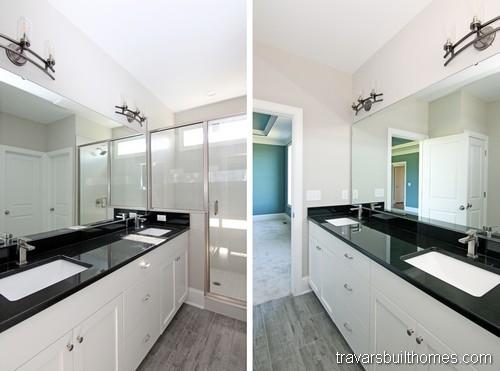 Bathroom Layout #8: Vaulted ceiling
A vaulted ceiling can add a feeling of spaciousness, when the roofline allows it in one story home or two story homes with the owner's suite upstairs.

Ask your build on your lot general contractor

what's possible in your plan.
Bathroom Layout #9: Best use of compact spaces
Custom home owner's suite bathroom sizes are designed in a wide variety of sizes, with typical square footage between 10-12 feet x 12-15 feet. Tighter spaces call for more creative tucking with your designer – like this.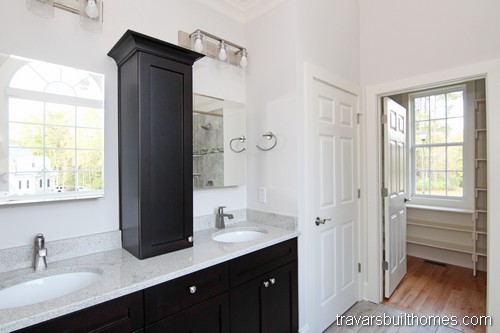 Bathroom Layout #10: Freestanding tubs
The romance of a freestanding tub has become a top requested upgrade in new homes. Touted as more open and comfortable, freestanding tubs can also require a few more inches of space.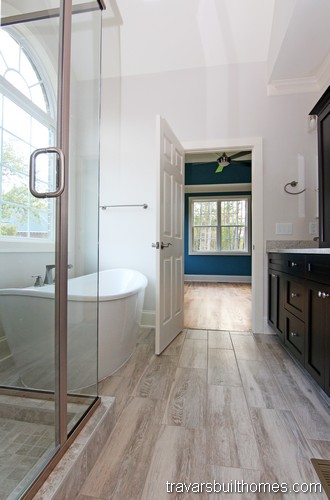 Bathroom Layout #11: Open space
Most master bathrooms allow for about 10′ of width to accommodate typical vanities, tub, shower, and maneuverability. Talk with the NC custom home builders at Travars Built Homes about what it takes to build in more options.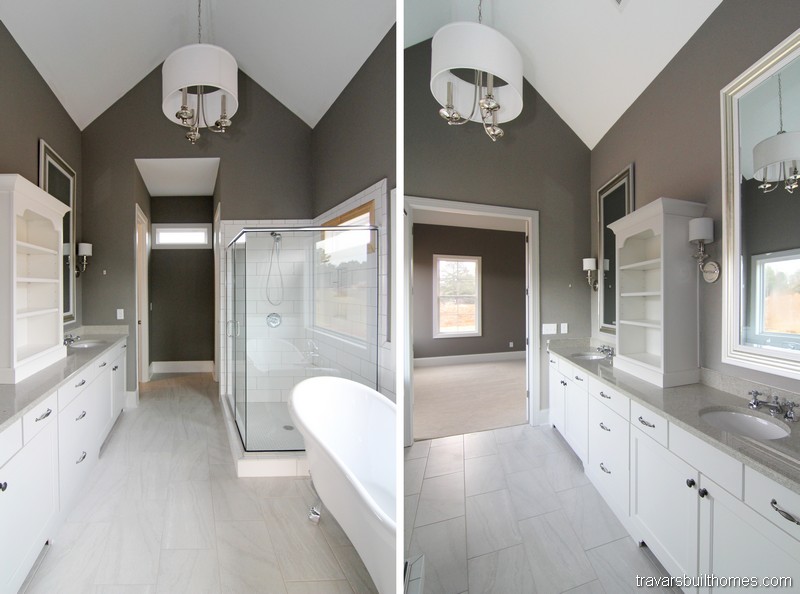 Get started: